Homepages
(hier geht es zur ggf. vollständigeren Homepage im alten Layout)
(this way to the possibly more complete Homepage in the old layout)
Martin Siebenborn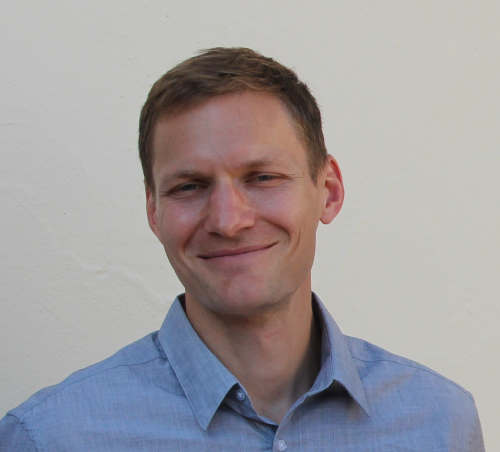 Junior Professor für Optimierung und Approximation

Fachbereich Mathematik
Bundesstraße 55 (Geomatikum)
Raum 105
20146 Hamburg

Tel.: +49 40 42838-5156
E-Mail: martin.siebenborn

REMOVE

@uni-hamburg

REMOVE

.de
Webpage: https://www.math.uni-hamburg.de/personen/siebenborn/


Projekte · Lehre · Publikationen · CV
Projekte
04/2020 - 10/2023, Landesforschungsförderung LFF-GK11 Simulationsbasierte Entwurfsoptimierung dynamischer Systeme unter Unsicherheiten, Link
04/2020 - 10/2024, DFG-GRK 2583 Modellierung, Simulation und Optimierung mit fluiddynamischen Anwendungen, Link
04/2016 - 10/2020, DFG-GRK 2126 Algorithmische Optimierung, Link
Forschungsschwerpunkte

Shape optimization and interface identification
High performance optimization algorithms
Algorithmic scalability for PDE constrained optimization
Example: Minimizing energy dissipation in a Stokes flow in mesh-quality preserving shape spaces
Example: Reference surface mesh and optimized geometry in stationary Navier Stokes flow
Lehre
| | |
| --- | --- |
| WiSe 20/21 | Vorlesung: Optimization of Complex Systems (englisch), online, Mi 14-16, Do 12-14 |
| | Übung: Optimization of Complex Systems (englisch), online, Mo 14-16 |
| SoSe 21 | Vorlesung: Optimization (englisch), online, Mi 16-18 |
| | Vorlesung: Numerical Methods for PDEs (englisch), online, Di 12-14, Fr 8-10 |
| | Übung: Numerical Methods for PDEs (englisch), online, Mo 14-16 |
| WiSe 20/21 | Vorlesung: Optimization of Complex Systems (englisch), online, Mi 14-16, Do 12-14 |
| SoSe 20 | Seminar: Numerische Algorithmen in C++ |
| WiSe 19/20 | Vorlesung: Numerische Mathematik, Geom H1, Mo 10-12, Do 14-16 |
| | Vorlesung: Optimierung für Studierende der Informatik, Geom H1, Di 16-18 |
| SoSe 19 | Vorlesung: Numerical Methods for PDEs (englisch), Geom H5, Di 12-14, Fr 8-10 |
| WiSe 18/19 | Vorlesung: Optimization of Complex Systems (englisch), Geom H6, Mi 12-14, Fr 8-10 |
| | Übung: Optimization of Complex Systems (englisch), Geom 142, Fr 10-12 |
| SoSe 18 | Vorlesung: Algorithms and Data Structure (englisch), Geom H5, Di 12-14 |
| | Vorlesung: Optimization (englisch), Geom H5, Do 10-12 |
Sprechstunden
| | |
| --- | --- |
| Im Semester: | Di 14-16 |
| Vorlesungsfreie Zeit: | Nach Vereinbarung |
Publikationen
Submitted preprints:
J. Pinzon and M. Siebenborn. Fluid dynamic shape optimization using self-adapting nonlinearextension operators with multigrid preconditioners. Submitted to: Journal on Optimization and Engineering (2021), arXiv:2108.07788.
J. Pinzon, M. Siebenborn, and A. Vogel. High-Performance Shape Optimization for Linear Elastic Models of Epidermal Cell Structures. Accepted for publication: High Performance Computing in Science and Engineering '20 (2021).
Journal articles:
Refereed proceedings:
V. Schulz, M. Siebenborn, and K. Welker. PDE constrained shape optimization as optimization on shape manifolds. In: Geometric Science of Information. Ed. by F. Nielsen and F. Barbaresco. Vol. 9389. Lecture Notes in Computer Science. 2015, 10.1007/978-3-319-25040-3_54.
V. Schulz, M. Siebenborn, and K. Welker. Towards a Lagrange-Newton approach for PDE constrained shape optimization. In: New trends in shape optimization. International Series of Numerical Mathematics. Springer, 2015, 10.1007/978-3-319-17563-8.
M. Siebenborn and V. Schulz. GPU Accelerated Discontinuous Galerkin Methods for Euler Equations and Its Adjoint. In: Proceedings of the High Performance Computing Symposium HPC 13. San Diego, California: Society for Computer Simulation International, 2013, 3:1-3:7.
Other publications:
M. Siebenborn. Discontinuous Galerkin approaches for HPC flow simulations on stream processors. PhD thesis. Trier University, Germany, 2014.
Software:
CV
| | |
| --- | --- |
| 01/2021 | Positive Zwischenevaluation der Junior Professor, Universität Hamburg |
| Seit 02/2018 | Junior Professor(W1) f&uumlr Optimierung und Approximation, Fachbereich Mathematik, Universität Hamburg |
| 01/2014 - 01/2018 | Postdoc im DFG-SPP Software for Exascale Computing (SPPEXA), Universität Trier |
| 01/2014 | Promotion in Mathematik, Universität Trier, bei V. Schulz |
| 11/2010 - 01/2014 | Wissenschaftlicher Mitarbeiter, Fachbereich Mathematik, Universität Trier |
| 10/2010 | Diplom in Mathematik, Universität Trier |
| 04/2006 - 10/2010 | Studium der Mathematik mit Nebenfach Informatik, Universität Trier |
---