Structured Ring Spectra - TNG
1st to 5th August 2011, Hamburg, Germany.
organizers: Andy Baker (Glasgow) and Birgit Richter (Hamburg)
This is the next in the informal series of conferences on Structured Ring Spectra in Glasgow 2002, Bonn 2004 and Banff 2008. The conference will begin Monday morning and end Friday evening. All talks will take place in the Geomatikum (Bundesstrasse 55, 20146 Hamburg) in lecture hall H1. The DFG sponsors this conference and thus we can support some of the active participants (i.e. those who give a talk).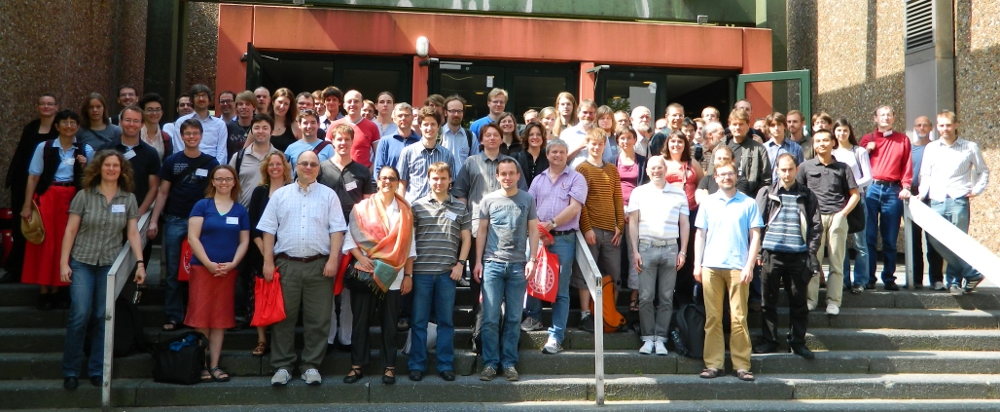 Photo taken by Nasko Karamanov
Participants:
Michal Adamaszek, University of Warwick
Andrew Baker, University of Glasgow
David Barnes, University of Sheffield
Tobias Barthel, University of Oxford
Samik Basu, University of Copenhagen
Tilman Bauer, Vrije Universiteit Amsterdam
Stanislaw Betley, University of Warsaw
Georg Biedermann, Universität Osnabrück
Robert Bruner, Wayne State University
Lukas Buhné, Universität Hamburg
Michael Ching, Amherst College
Daniel Davis, University of Louisiana
Ethan Devinatz, University of Washington
Boryana Dimitrova, Universität Bonn
Bjørn Ian Dundas, University of Bergen
William Dwyer, University of Notre Dame
Rosona Eldred, University of Illinois at Urbana-Champaign
Anthony Elmendorf, University Calument, Purdue
Eric Finster, EPFL
Imma Galvez, Universitat Politecnica de Catalunya
Nora Ganter, University of Melbourne
David Gepner, Universität Regensburg
Teena Gerhardt, Michigan State University
John Greenlees, University of Sheffield
Moritz Groth, Universität Bonn
John Harper, University of Western Ontario
Markus Hausmann, Universität Bonn
Fabian Hebestreit, Universität Münster
Jeremiah Heller, Bergische Universität Wuppertal
Hans-Werner Henn, Université de Strasbourg
Kathryn Hess, EPFL
Michael Hill, University of Virginia
Eric Hoffbeck, Universität Hamburg
Mark Hovey, Wesleyan University
Dale Husemöller, MPI Bonn
Katja Hutschenreuter, Universität Bonn
Michael Joachim, Universität Münster
Niles Johnson, University of Georgia
Nasko Karamanov, University Paris Nord
Varvara Karpova, EPFL
Magdalena Kedziorek, University of Sheffield
Ulf Kühn, Universität Hamburg
Anssi Lahtinen, University of Copenhagen
Marc Lange, Universität Hamburg
Martin Langer, Universität Bonn
Gerd Laures, Ruhr-Universität Bochum
Kathryn Lesh, Union College
Filipp Levikov, University of Aberdeen
Eric Malm, Stony Brook
Lennart Meier, University of Bonn
Jack Morava, Johns Hopkins University
Niko Naumann, Regensburg University
Thomas Nikolaus, Universität Hamburg
Justin Noel, MPI Bonn
Paul Arne Østvær, University of Oslo
Irakli Patchkoria, Universität Bonn
Geoffrey Powell, CNRS and University Paris Nord
Daniel Ramras, New Mexico State University
Birgit Richter, Universität Hamburg
Nicolas Ricka, University Paris Nord
Constanze Roitzheim, University of Glasgow
Martin Ruderer, Universität Regensburg
Hal Sadofsky, University of Oregon
Steffen Sagave, Universität Bonn
Christian Schlichtkrull; University of Bergen
Urs Schreiber, University of Utrecht
Norman Schuhmann, Ruhr-Universität Bochum
Stefan Schwede, Universität Bonn
Shoham Shamir, University of Bergen
Brooke Shipley, University of Illinois at Chicago
Marc Stephan, EPFL
Vesna Stojanoska, Northwestern University
Martin Stolz, University of Bergen
Rubert Swarbrick, University of Warsaw
Karol Szumilo, Universität Bonn
Markus Szymik, Heinrich-Heine-Universität Düsseldorf
Nguyen The Cuong, University Paris Nord
Andrew Tonks, London Metropolitan University
Takeshi Torii, Okayama University
Mark Ullmann, FU Berlin
Sarah Whitehouse, University of Sheffield
Stephanie Ziegenhagen, Universität Hamburg