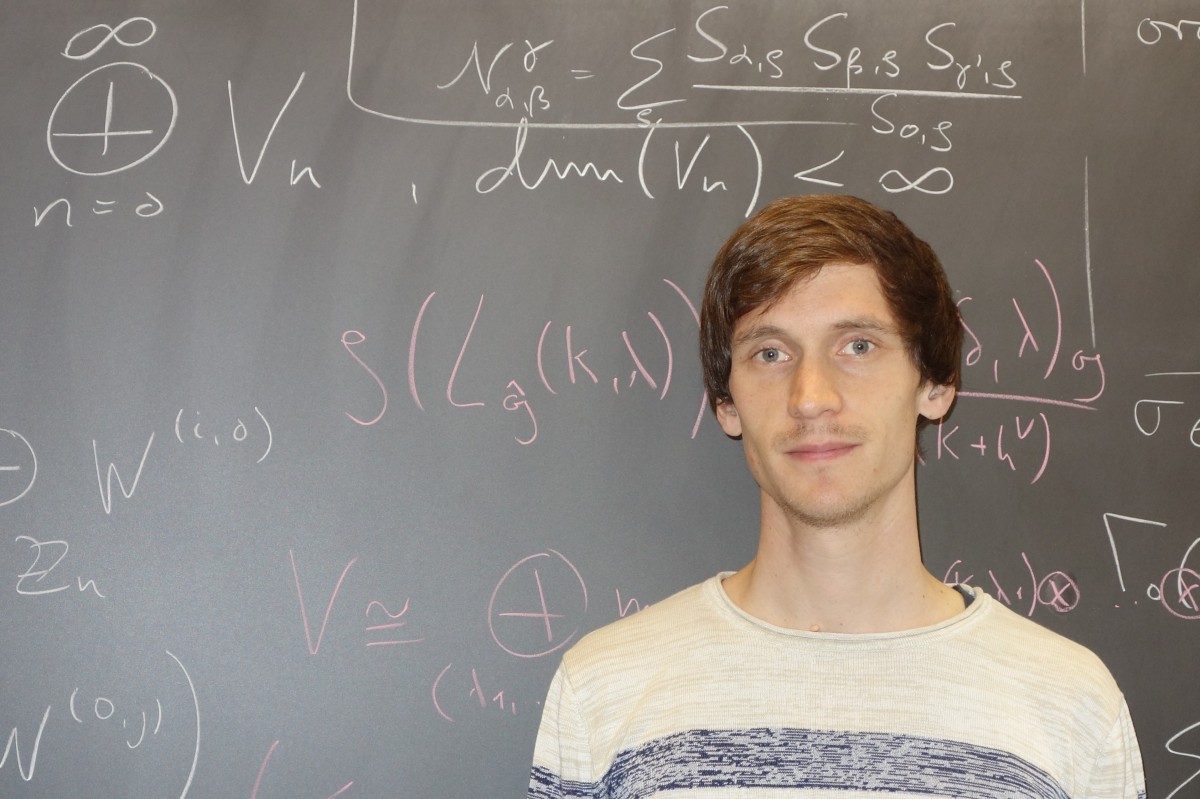 Sven Möller
Emmy-Noether Junior Research Group Leader
Bereich Algebra und Zahlentheorie
Fachbereich Mathematik
Universität Hamburg, Germany
Contact Information
business Geomatikum, Room 314 (directionsopen_in_new, mapopen_in_new)
alternate_email math@moeller-sv...
alternate_email sven.moeller@uni-ha... (for internal use)
lock public PGP key (encrypted mails are welcome)
link Link to this webpage: www.moeller-sven.de
phone+49 40 42838 5183
mail Mailing address
Research Projects and Interests
I am broadly interested in representation theory, number theory and mathematical physics. In particular, I study vertex algebras, conformal field theory, automorphic forms, infinite-dimensional Lie algebras and their connections.
I am principal investigator in the SFB 1624 Higher Structures, Moduli Spaces and Integrability.
I am key researcher in the cluster of excellence Quantum Universe.
Together with Claudia Alfes-Neumann I organised a workshop on Modular Forms and Representation Theory in 2022.
Research Group
Ph.D. students:
Curriculum Vitæ
Academic CV file_downloadPDF
(last updated: Mar. 2023)
Selected Publications
Hilbert Schemes of Points in the Plane and Quasi-Lisse Vertex Algebras with Symmetry.
Submitted, 2023. (arXiv:2309.17308 [math.RT]).
With Tomoyuki Arakawa and Toshiro Kuwabara.
Dimension Formulae and Generalised Deep Holes of the Leech Lattice Vertex Operator Algebra.
Ann. of Math., 197(1):221–288, 2023. (arXiv:1910.04947 [math.QA]).
With Nils R. Scheithauer.
(Video of talk by Nils R. Scheithaueropen_in_new)
Construction and Classification of Holomorphic Vertex Operator Algebras.
J. Reine Angew. Math. (Crelle's Journal), 759:61–99, 2020. (arXiv:1507.08142 [math.RT]).
With Jethro van Ekeren and Nils R. Scheithauer.
(Videos of talks by Jethro van Ekerenopen_in_new and Nils R. Scheithaueropen_in_new)
All Publications
My publications on Google Scholar open_in_new, the arXiv open_in_new (incomplete: zbMath open_in_new, MathSciNet open_in_new)
Mailing Address
Sven Möller
Bereich Algebra und Zahlentheorie
Fachbereich Mathematik
Universität Hamburg
Bundesstraße 55
20146 Hamburg
Germany