Immanuel van Santen (geb. Stampfli)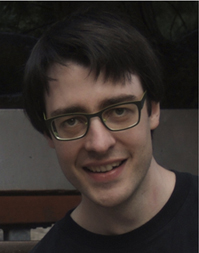 Fachbereich Mathematik
Bereich AD
Bundesstraße 55 (Geomatikum)
20146 Hamburg
Raum 220
Tel.: +49 40 42838-5148
E-Mail: immanuel.van.santen(at)uni-hamburg(dot)de
About me:
My main research subject lies in the field of (affine) algebraic geometry. A particular emphasis of my research lies in the study of the group of algebraic automorphisms of the affine space. In my recent research, I turned my focus to algebraic embeddings of (affine) varieties.
Office hours Winter Term 2016/17:
Mon, 9-11
Sommersemester 2017:
Übungen zu Grundbildung Geometrie, Mo 13-14, Raum 432 und Di 9-10, Raum 142.

Wintersemester 2016/17:
Organisation (together with Prof. Bernd Siebert) of the North German Algebraic Geometry Seminar , 19-20 January 2017
Übungen zu Höhere Analysis Mo 14-16, Raum 241 und Mi 10-12, Raum 1240.
Tutorium zum Vorkurs für Studienanfänger 19.9. - 7.10.2016.

Sommersemester 2016:
Übungen zu Funktionentheorie, Di 12-14, Raum 435.

Wintersemester 2015/16:
Übungen zu Mathematik I für Studierende der Informatik , Fr 14-16, Raum 142.
Übungen zu Grundlagen der Mathematik , Mo 16-18, Raum 430.


Preprints:

Hanspeter Kraft, Andriy Regeta and Immanuel van Santen.
Is the affine space determined by its automorphism group?
Preprint, 2017.
https://arxiv.org/abs/1707.06883

Jérémy Blanc and Immanuel van Santen.
Embeddings of Affine Spaces into Quadrics.
Preprint, 2017.
https://arxiv.org/abs/1702.00779

Peter Feller and Immanuel van Santen.
Uniqueness of Embeddings of the Affine Line into Algebraic Groups.
Preprint, 2016.
https://arxiv.org/abs/1609.02113

Peter Feller and Immanuel Stampfli.
Holomorphically equivalent algebraic embeddings.
Preprint, 2014.
http://arxiv.org/abs/1409.7319


Publications:

Stefan Maubach and Immanuel Stampfli.
On Maximal Subalgebras.
J. Algebra 483 (2017), 1-36.
http://arxiv.org/abs/1501.03753 or Official webpage

Immanuel Stampfli.
Algebraic embeddings of ℂ into SLn(ℂ).
Transformation Groups (2015).
https://arxiv.org/abs/1505.03735 or Official webpage

Immanuel Stampfli.
Automorphisms of ℂ3 Commuting with a ℂ+-Action.
Int. Math. Res. Not. IMRN (2015), no. 19, 9832-9856.
https://arxiv.org/abs/1406.6246 or Official webpage

Jérémy Blanc and Immanuel Stampfli.
Automorphisms of the Plane Preserving a Curve.
Algebr. Geom. 2 (2015), no. 2, 193-213.
https://arxiv.org/abs/1304.2549 or Official webpage

Immanuel Stampfli.
A note on Automorphisms of the Affine Cremona Group.
Math. Res. Lett. 20 (2013), no. 6, 1177-1181.
https://arxiv.org/abs/1209.3427 or Official webpage

Hanspeter Kraft and Immanuel Stampfli.
On Automorphisms of the Affine Cremona Group.
Ann. Inst. Fourier (Grenoble) 63 (2013), no. 3, 1137-1148.
https://arxiv.org/abs/1105.3739 or Official webpage

Immanuel Stampfli.
On the Topologies on ind-Varieties and related Irreducibility Questions.
J. Algebra 372 (2012), 531-541.
https://arxiv.org/abs/1109.4088 or Official webpage


Dissertation:

Immanuel Stampfli.
Contributions to Automorphisms of Affine Spaces. 2013.
http://edoc.unibas.ch/diss/DissB_10504